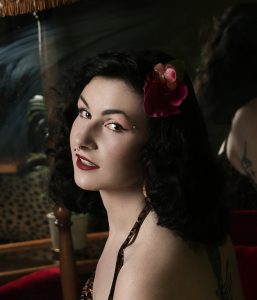 Painter – Performer
She works in Germany since 2012. She is currently based between Athens and Bonn. She uses mainly painting and burlesque performance in order to explore the performative aspect of femme identity through constructed feminine attributes, female sexuality and female impersonation.
In 2013 she began her studies at the Kunstakademie Düsseldorf under the guidance of Katharina Grosse, Eberhard Havekost and Yesim Akdeniz. After exploring the picturesque possibilities of abstract forms and structures she distinguished an analogy within social formalities in terms of restriction, representation and perception. As a woman artist who deals with femme representation she is interested in challenging perception and sexuality in relation to the concept of gender as it has been structured through history by patriarchy and the male gaze.
Her interest lies in expanding the limits of femininity and free her figures from heteronormative ideals and repressive expectations.
Anonyme Zeichner
Galerie im Körnerpark, Berlin.
Pilé
Klasse Katharina Grosse
Goldenshower
TRASH/HSART
Frappant Gallery Hamburg.
Dampfboot-Wartezimmer
Get updates from this and more artists
We will process the personal data you have supplied in accordance with our privacy policy.