Peny Papoutsi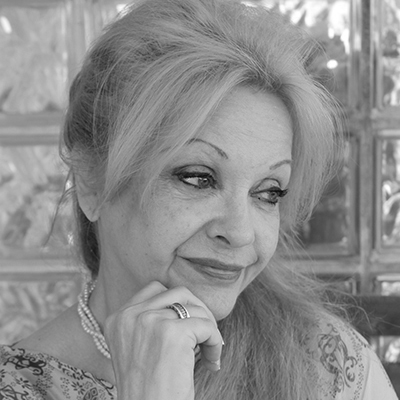 Penny Papoutsi was born in Athens. She graduated from the National Theater Drama School (with excellence). She did vocal lessons with Elli Nikolaidis and painting with Vassilis Vassiliadis. Immediately after graduating from school, she was recruited to the National Theater, wheres he remained in his troupe for many years, performing key and leading roles throughout the repertoire.
She was the director of the Theater Department of the Municipality of Haidari, directing her own work at the Municipal Theater of the Municipality, the work of Angelos Terzakis "The Wedding Symphony" with the "Skinovates" group and the one-act of Tennessee Williams "At liberty".
She has been teaching drama acting at the Ministry of Culture for 10 years. She took part in radio talk shows and starred on the "Theatrical Monday" (a weekly show for theater adaptations for national television). Lately she has published a poetry collection with the Italian-Greek Cultural Organization "microkosmos". She is a founding member of the THEROS Cultural Society.