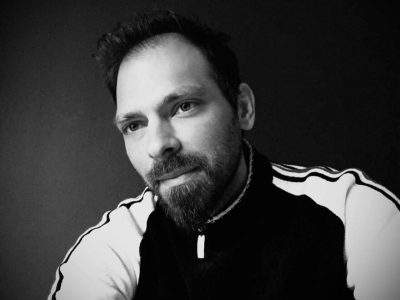 Painter, Engraver, Printmaker
Having already a master at Computers, at the University of Ioannina, he decided to follow his internal urge for painting. Consequently, he graduated from the department of Fine Arts from the University of Ioannina with exceptional grade.
When he finished his studies, he decided to do his practice at Print Club Torino, through the Erasmus+ program. During this period he discovered modern printmaking techniques and he worked with the Organisation's staff on a project combining traditional printmaking techniques (drypoint, xylografy, chalcografy) with the modern ones and specifically with serigrafy.
Taking part at exhibitions held not only in Greece but also in Italy (Rome, Torino) and Great Britain (London, Saatchi Gallery – 2019) motivates him to become better and stronger at the Art scenery. He accomplishes to stimulate emotions and feelings, related to our inner side, presenting us landscapes and natural surroundings in which we exist and we are part of them.
You can also find his latest work at his personal Instagram account https://www.instagram.com/panos_pristouris/
Get updates from this and more artists
We will process the personal data you have supplied in accordance with our privacy policy.